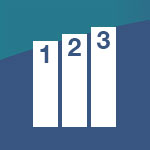 The Achievement Index
Welcome to the School of Management's Achievement Index blog. Email your ideas and questions to us at kteleish@nyit.edu.
See all posts on The Achievement Index
Results for "Staff" on The Achievement Index
Feature | Mar 27, 2023
The School of Management's Center for Risk Management is enhancing its relationship with Bloomberg L.P. The growing relationship is not only paying dividends for School of Management students, but offers potential benefits to all New York Tech students, faculty, and staff in the form of enhanced financial literacy.
Read More at NEW YORK TECH NEWS