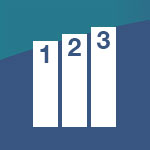 The Achievement Index
Welcome to the School of Management's Achievement Index blog. Email your ideas and questions to us at kteleish@nyit.edu.
See all posts on The Achievement Index
Results for "Staff" on The Achievement Index
Feature | Apr 28, 2020
To acknowledge the extraordinary challenges faced by the Class of 2020 during the COVID-19 crisis, New York Tech will offer two commencement ceremonies celebrating their achievements: a virtual ceremony for New York City and Long Island campus students on June 21, 2020, and an in-person event in May 2021.
Read More at the Box