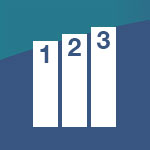 The Achievement Index
Welcome to the School of Management's Achievement Index blog. Email your ideas and questions to us at kteleish@nyit.edu.
See all posts on The Achievement Index
Results for "Student" on The Achievement Index
Profile | Jan 24, 2019
Melanie Benyadi (B.F.A. '17) loves the thrill of competition. After receiving her bachelor's degree in communication arts, the tennis player realized she loved problem-solving and is now winning competitions of a different kind as an M.B.A. student.
Read More at the Box