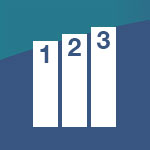 The Achievement Index
Welcome to the School of Management's Achievement Index blog. Email your ideas and questions to us at kteleish@nyit.edu.
See all posts on The Achievement Index
Results for "Alumni" on The Achievement Index
Profile | Sep 01, 2021
Master's candidate Melanie Jelen (B.S. '20) is the recipient of the 2021 Women Economic Developers of Long Island Madeline Orsini Scholarship. She spoke to The Box about the award and her plans for the future.
Read More at the Box