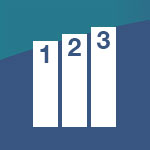 The Achievement Index
Welcome to the School of Management's Achievement Index blog. Email your ideas and questions to us at kteleish@nyit.edu.
See all posts on The Achievement Index
Results for "Alumni" on The Achievement Index
Profile | Aug 01, 2023
As a high school student, Alan Wong (D.O. '03, M.B.A. '03) volunteered as a researcher at Mount Sinai Hospital in Manhattan. Today, he's the chief medical officer at Mount Sinai's hospital in Oceanside, N.Y.
Read More at NEW YORK TECH NEWS