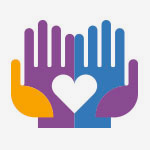 Health e-News
This blog features news, events, student work and activities, faculty research, and more from NYIT's School of Health Professions. Contact mhaar@nyit.edu for more information.
Learn More
PA On Panel One Day, Dancing As The NYIT Bear The Next
Every year, NYIT has Preview Days on both the Manhattan and Old Westbury campuses to show prospective students what it's like to be an NYIT student. I was asked to be a part of the Life Sciences Panel on both campuses. Being an ambassador for four years, I've always enjoyed sharing my own personal experiences and offering my advice to others. It is a very prideful feeling to put on my white coat and represent the Physician Assistant program at these events.
After a day of speaking with potential PA students, I shed off the white coat and put on a bear suit instead. To go from a position where everyone sees who you are, the anonymity of a bear mascot head is liberating. I danced, I took part in pictures, and I greeted children. As sweaty as it was, it was awesome to represent NYIT in two different ways.