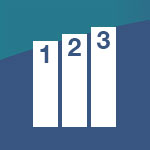 The Achievement Index
Welcome to the School of Management's Achievement Index blog. Email your ideas and questions to us at kteleish@nyit.edu.
Timeless Legacy with Esther Fortunoff-Greene
In celebration of Women's History Month, our host John Rebecchi, Ph.D. (M.B.A. '83) welcomes Esther Fortunoff-Greene, President and CEO of Fortunoff Fine Jewelry. Over the course of a 30-year career, Fortunoff-Greene worked in her family's chain of department stores. There, she made a significant impact in transforming Fortunoff into an institution and a go-to store for millions in search of fine jewelry.
As a woman pioneer in the diamond and jewelry business, Fortunoff-Greene emphasizes on living your values, in this case by promoting women jewelry designers and women-owned businesses and supporting local charities.
While we explore the hundred-year history of Fortunoff, she shares the secrets behind the success of Fortunoff legacy and the "secret sauce" in how they invest heavily on employees' growth.
Fortunoff-Greene's advice for entrepreneurs in building a lasting company is to be a great employer. She explains that giving your employees benefits that they deserve is very important. However, she believes giving the opportunity for employees to grow personally and professionally is as important in building a company that would last decades to come.
Listen to the full episode: Podbean, Apple Podcast, Google Podcast, Spotify