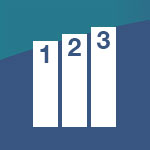 The Achievement Index
Welcome to the School of Management's Achievement Index blog. Email your ideas and questions to us at kteleish@nyit.edu.
School of Management Congratulates 2022 Corporate Challenge Winners
The primary aim for School of Management's Riyaz Akhtar Experiential Education Program is to provide all possible opportunities to our students to attain experiential learning goals. In this direction, our program provided students a platform to engage with the National Supermarket Association to address its business and management challenges. Mr. Frank Pimental and Shaya Sheikh, Ph.D., associate professor of business and supply chain analytics wrote the case study and evaluated all student team presentations. The efforts students have taken addresses the challenges of the National Supermarket Association, New York, are truly appreciated. Birasnav Muthuraj, Ph.D., associate professor of management science studies and Director of Experiential Education organized and mobilized the Corporate Challenge 2022 case competition.
Please help us congratulate this year's winners.
Winning team: Kishore Kumar Saravana, Harika Bhaviri, Mohnish Ramkhalawon & Parita Satani, Faculty mentor: Prabhakar Gantasala, Ph.D., M.B.A. program director and associate professor
Runner up: Siddharth Surendra Shah, Minqi Zheng, Shreyansh Mehta, & Ayush Pravinbhai Kalathiya, Faculty mentor: Swapna Bhargavi Gantasala, Ph.D., director of Professional Enrichment and assistant professor
Third place: Dorentina Gashi & Sobnom Mostari, Faculty mentor: Prabhakar Gantasala, Ph.D., M.B.A. program director and associate professor