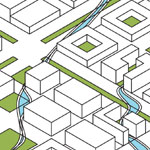 Spotlight on Urban Design
This blog is maintained by the Architecture, Urban, and Regional Design, M.S. program. Contact grad.arch@nyit.edu for more information.
Learn More
NYIT Urban Design hosted Shandong Provincial Government delegation
On 26 September 2018, the NYIT graduate urban design program welcomed a Chinese delegation from the Shandong Provincial Government for a workshop on sustainable-resilient urban design. Our graduate student Wenshuo Liu presented Urban Design Climate Workshop—Sunnyside Yards, NYC. Her presentation was based upon the Spring 2018 Urban Climate Lab course and the international Urban Design Climate Workshop held that summer at NYIT. Other lectures featured faculty Kubi Ackerman presenting on mapping of New York metropolitan region food flows, Professor Nicholas Bloom on best practices in affordable housing, and Professor Jeffrey Raven on his recent publication Climate Change in Cities.