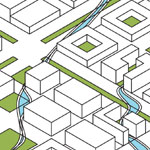 Spotlight on Urban Design
This blog is maintained by the Architecture, Urban, and Regional Design, M.S. program. Contact grad.arch@nyit.edu for more information.
Learn More
New York City Urban Design Climate Workshop (UDCW)
Urban Design Climate Lab Workshops are underway worldwide with urban designers, urban planners, climatologists, policymakers, stakeholders and graduate students working side-by-side. The New York City Urban Design Climate Workshop (UDCW) was held on 11 August in New York City at the New York Institute of Technology, 1855 Broadway (at 61st Street).

The high-profile site for this workshop and panel is Sunnyside Yard in Queens, NY., which is under consideration for large-scale development. Sunnyside Yard site selection is based upon the expected population density increase through the year 2050, largely due to re-zoning or planned infrastructure improvements. In effect, more density increases urban heat stress as the urban climate gets hotter; and increases risk of flooding. This Sunnyside Yard site is the subject of the Urban Climate Lab at the New York Institute of Technology; so it benefits from graduate student prep work, expertise and a large physical model at the disposal of the UDCW.
The NYIT Urban Climate Lab used off-the-shelf Geographic Information Systems (ArcGIS) mapping and digital Parametric 3-D modeling tools (Rhinoceros, Grasshopper - with Ladybug plug-ins), drawing from Weather Data (EPW) files. The Planning and Design Intervention was generated by considering outputs from the "2050 scenario". Prior to the intervention, the design research includes 1) modeling and analyzing comparable districts of high density and low thermal stress; 2) developing evidence-based urban design guidelines that include climate factor diagram sand physical configurations. Elements of the qualitative guidelines were applied to the pilot site; 3) expected climatology modeling outcomes from peer-reviewed research. Students also made assumptions pertaining to density increase, based on projected population, planned housing and infrastructure development, and rezoning. That information is obtained from city agencies. The final urban design intervention has been configured through the articulation of design goals responding to the complexity of context, spatial scales and systems; pointing to coherent design strategies and outcomes. The preparation leading to the urban design workshop tested and refined the site intervention through micro-climate modelling at district scale for 2018 and 2050 projections.
ATTENDEES:
Urban Climate Scientists
Urban Climate Change Research Network (UCCRN)
Christian Braneon, PhD, NASA Goddard Institute for Space Studies/Columbia University Earth Institute

Mattia Leone, PhD, University of Naples Federico II, Italy

Sam Diller Goldberg, NASA Goddard Institute for Space Studies/Columbia University Earth Institute

International Association for Urban Climate (IAUC)

James Voogt, PhD, Western University, Canada; IAUC President

Gerald Mills, PhD, University College Dublin, Ireland; IAUC past-President

Edward NG, PhD, Chinese University of Hong Kong (CUHK)

Chao REN, PhD, Chinese University of Hong Kong (CUHK)

Evyatar Erell, PhD, Ben-Gurion University of the Negev, Israel

Tzu-Ping Lin, PhD, National Cheng Kung University, Taiwan

Enza Tersigni, PhD, University of Naples Federico II, Italy

Maeva Sabre, PhD, CSTB Nantes, France

Simon Tschannett, Weather Park, Austria

Urban Design
Jeffrey Raven, Associate Professor / Director, Graduate Program in Urban + Regional Design, NYIT

William Kenworthey, Urban Design and Planning Leader, HOK

Apoorv Goyal, Sr. Sustainable Design Specialist

Ilana Judah, Principal / Director of Sustainability, FXCollaborative

David Driskell, Dep. Director, Planning & Community Development, Seattle

Greg Haley, Grimshaw

Farcia Soares, Grimshaw / NYIT MSAURD 2016

Marc Wouters, Congress for New Urbanism

Melissa Kelly, WSP Built Ecology

Shachi Pandey, MUD / Columbia University faculty

Yuan Liang, Cooper Robertson

Jessica Morris, Imrey Studio

Dai Shenger, Dadras Architects / NYIT MSAURD 2017

NYIT
Wenshuo Liu, Publication Editor and Designer

Luciana B. N. Godinho, Workshop Coordinator

Juan Pedro Liotta, Modeling Coordinator

Paola Medina-Gonzalez, Administrative Specialist, Graduate School of Architecture and Design