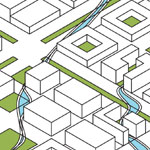 Spotlight on Urban Design
This blog is maintained by the Architecture, Urban, and Regional Design, M.S. program. Contact maurd@nyit.edu for more information.
Learn More
Feature | Sep 12, 2018
A group of three architecture students presented their design solution for Sunnyside Yard, an active rail yard in Queens, during the Urban Design Climate Workshop held at NYIT-New York City (Manhattan) in August.
Read More at the Box