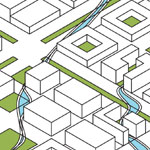 Spotlight on Urban Design
This blog is maintained by the Architecture, Urban, and Regional Design, M.S. program. Contact grad.arch@nyit.edu for more information.
Learn More
Feature | May 27, 2020
In a May 20 article in the French newspaper Le Monde, Graduate Urban Design program director Jeffrey Raven provides insights on how climate-resilient urban design can play a significant role in deterring major health challenges and the spread of disease.
Read More at the Box