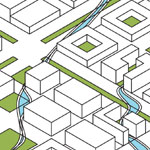 Spotlight on Urban Design
This blog is maintained by the Architecture, Urban, and Regional Design, M.S. program. Contact grad.arch@nyit.edu for more information.
Learn More
Report by the Center for an Urban Future: Green Public Works Program for NYC by Prof. Jeffrey Raven
To understand how New York might take advantage of federal investment to create jobs and help the city mitigate and adapt to the effects of climate change, Center for an Urban Future asked city leaders in coastal resilience, environmental justice, urban agriculture, renewable energy, and more for sustainability and resiliency project ideas.
https://nycfuture.org/research/a-green-public-works-program-for-nyc
Jeffrey Raven
Prioritize construction of "sponge city" projects
Faced with the urgent need to mitigate and adapt to climate change, NYC must prioritize urban design that accomplishes both. Sponge City infrastructure such as green roofs, underground stormwater basins, permeable pavements, and bioretention facilities help urban areas soak up as much stormwater as possible while also reducing carbon emissions, enhancing non-motorized transport networks and cooling the city. Construction of these types of projects should be prioritized in high-density areas such as Midtown Manhattan, Downtown Manhattan, and Downtown Brooklyn. New York can also incentivize private development of sponge city infrastructure through transferable development rights and credits/waivers for POPs (privately owned public park) space in designated areas of need.
Build a network of energy hubs
The city should build neighborhood energy hubs to store energy in large-capacity smart grid batteries, and secondarily act as recharge stations, bike storage, drop-off centers, civic spaces, or last-mile freight hubs. Placing energy hubs throughout New York City's neighborhoods would not only build energy resiliency within communities but act as colorful and aesthetically important symbols of each neighborhood. These colorful iconographic structures would be designed to reflect New York City's neighborhood identities and needs, instantly becoming 21st century icons on the urban landscape.
Construct stormwater storage structures in low-lying neighborhoods
Building depressed roadways, parking lots, or parks along flood-prone coastline can help to temporarily store stormwater during extreme flood events. In addition, these projects can be multipurpose, with green infrastructure built above to provide win-win resilience and quality of life improvements. Areas that flood often, such as the Hudson River Park, FDR Drive, the BQE, and the Major Deegan Expressway should be prioritized.