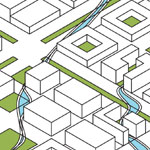 Spotlight on Urban Design
This blog is maintained by the Architecture, Urban, and Regional Design, M.S. program. Contact grad.arch@nyit.edu for more information.
Learn More
MS.AURD FACULTY NEWS: MARCELLA DEL SIGNORE
Associate Professor and MS.AURD Director Marcella Del Signore is part of the "NATURE of ENCLOSURE" Series curated by Jeffrey Nesbit and promoted by UrbanNext.
In the 6th session from Nature of Enclosure, Jeffrey S. Nesbit is joined by Mariano Gomez Luque, Marcella Del Signore, and Shawn Rickenbacker whose work examines the role of architecture, technology, and politics, that give rise to accelerated capital and planetary conditions within the Nature of Enclosure.