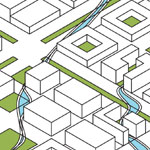 Spotlight on Urban Design
This blog is maintained by the Architecture, Urban, and Regional Design, M.S. program. Contact grad.arch@nyit.edu for more information.
Learn More
MS.AURD FACULTY NEWS: MARCELLA DEL SIGNORE
From Fall 2020, Associate Professor Marcella Del Signore is the new Director of the MS. in Architecture, Urban and Regional Design. Building on the strong legacy of previous Directors, Jeffrey Raven (2012-2019) and Michael Schwarting (1996-2012), the program will continue to focus on critical issues within the global context of 21st-century urbanism. The program will expand on four main areas to project scenarios for FUTURE CITIES and URBAN INNOVATION:
Interscalar forms of URBANIZATION

Applied URBAN TECHNOLOGY

CLIMATE RESILIENCE

SOCIO-CULTURAL aspects of CITIES


The Ms.AURD is a program at the forefront of urban design research focused on issues of urbanization through the exploration of social, cultural, political, economic, technological, and environmental domains.
A series of local and global initiatives will support the program's expansion and outreach to build platforms for collaboration and exchange between students, academics, and the larger community on relevant issues of contemporary urbanization.