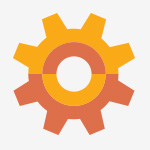 Inside Engineering
This blog features news, events, student work and activities, faculty research, and more from NYIT's College of Engineering and Computing Sciences. Contact Sarah Hessasta at shessast@nyit.edu for more information.
New York Tech Officially Opens the ETIC on the New York City Campus
New York Institute of Technology's College of Engineering & Computing Sciences officially opened their Entrepreneurship and Technology Innovation Center (ETIC). Since 2015, the Long Island campus has been home to our renowned ETIC Center; NYIT's hub for fresh, innovative ideas. It's also been the primary site for the NASA contractual program that ETIC student employees have been building unique technology prototypes based on existing NASA patents and create professional marketing materials that NASA can use in efforts to commercialize the technology.
Discussions to renovate and tidy up the New York City campus's center began in 2021. Graduate student Yuki Gao and Lab Engineer Kristina Murtha made significant contributions to its preparedness in the months leading up to its grand opening. Students and staff reorganized the desk structures, established basic cable management, set up the 3D printers (Makerbot Z18) and PCB printers (Voltera V-One), installed the toolbox and other basic lab supplies , two soldering station setups, 5 Dell Desktops with high performance, an additional 70" TV screen for additional uses, and created a spacious prototyping area for students .
The ETIC is equipped with state-of-the-art labs to help foster development within IT and cybersecurity, bioengineering and medical devices, energy and green technologies. For example, it holds a plethora of electronic starter kits like Arduino and Raspberry Pi!
On March 31, 2022, students, staff and faculty gathered for the official ribbon cutting ceremony in the New York City campus. Dean Babak D. Beheshti, Ph.D. and the Director of the Entrepreneurship and Technology Innovation Center Michael Nizich, Ph.D. were in attendance.
Students presented their design projects, too: Robert Doxey, Robert Maksimowicz, Lincoln Dover, Hibah Agha, Alexander Impastato, Mikail Smirnov, and Cameron Neumann.
We expect even more incredible work in the near future!