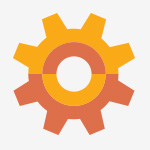 Inside Engineering
This blog features news, events, student work and activities, faculty research, and more from NYIT's College of Engineering and Computing Sciences. Contact Raed Elzenaty at rjelzena@nyit.edu for more information.
NSBE Returns from the #NSBE49 Convention
On March 22-26, 2023, The National Society of Black Engineers (NSBE) attended the #NSBE49 Convention in Kansas City, Missouri. 35 Students from the Long Island and Manhattan chapters, as well as IEEE Manhattan participated.
The 49th Annual Convention is a four-day constitutional event with over 10,000 attendees, 300+ company career fair and a 3,000+ General Session. During the Convention, NSBE conducted professional development and networking activities, and competitions.
Two teams from NSBE-LI chapter competed at the Boeing Flight Competition. New York Tech was the only university representing Region-1 at the conference and the New York Tech Flight Crew placed third in the competition!
Students who attended #NSBE49 recounted their experience at this year's conference. They encourage other students to consider prioritize attending the conference next year!
The NSBE Convention was a great way for me to meet people from other chapters as well as network with people from big name companies such as Mars and Procter & Gamble. It also made me proud as a President and fellow NYIT student when a team from my chapter took 3rd place for distance in the Boeing Flight Competition. As this was my second conference, I was better able to navigate my way around the different workshops and meetings, and that made my experience even better.

—Nevaeh Woods, Senior, NSBE OW

I went on a trip with the National Society of Black Engineers (NSBE) to Kansas City, MO with the intention of finding employment at the career fair. During the trip, I had several interviews with different companies, and in the end, I received a job offer from Lockheed Martin, which I accepted. I am currently in the pre-employment process. The job is Software engineer title and I will relocate to Atlanta, Georgia. Overall, the trip was a success.

—Sita Sanon, Senior NSBE NYC

NSBE 49th was definitely a great experience. As a graduating senior the different opportunities offered were amazing. I personally took advantage of the career fair where I got to explore several manufacturing engineering opportunities and interview for a couple full-time positions. On the other hand I also took full advantage of the professional development speaker series where I got to learn about the PE/FE exams, hone my project management skills, and network with old coworkers at the company where I interned over the summer.

—Marx Irnet Bertrand, Senior, NSBE OW

During the conference, I got the chance to network with other students from all over the country, young professionals and experienced personnel in the tech & fintech industry. My goal is to transition to the tech industry once I graduate and talking to the professionals who are already in the industry greatly put things into perspective. They advised me on the skills I should hone as I work towards getting into the corporate world. I am thankful for the opportunity to attend the conference, and I hope to attend the next one in order to stand a chance of actually getting hired as I put the advice I received into action.

—Jonan Manzi, Junior, IEEE NYC

I am grateful to have attended the 49th Annual convention NSBE held at Kansas city from march 22nd to 25th. During the conference I had the opportunity to check in various sessions to discuss topics and develop recommendations, among these was the Intersectionality by Cherry Daniel, Technical project manager, senior USA, where she navigate who we want to be and how our society looks at us and throughout the session I learn who do I have to be today not just to survive but also to achieve. While during the career fair session I was able to attend various company interviews, among the many was Garmin International company which I realized had great opportunities for software engineering projects; I excelled throughout the interview process for internship. I am thankful to the NSBE organization for such a wonderful exposure to great opportunities.

— Geoffrey Bwalley, Junior, NSBE OW

I had the great opportunity to attend on the 24thrd of March 2023 NSBE's 49th conference at the Kansas City Convention Centre. I was thrilled to have the chance to talk with amazing recruiters and learn about companies that I was unaware of. After dozens of rejections applying for internships online I wasn't offered even one interview. But this conference gave me the path to talk to recruiters face-to-face and impress them with my resume. It was definitely a humbling experience as I have a lot of skills to improve upon and this was an eye-opener for me. Thank you for giving me this golden opportunity.

— Vighanesh Gaund, Sophomore, NSBE NYC
If interested in enrolling in a club on campus, please reach out to the club's e-board members!