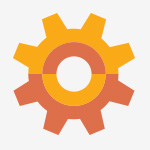 Inside Engineering
This blog features news, events, student work and activities, faculty research, and more from NYIT's College of Engineering and Computing Sciences. Contact Sarah Hessasta at shessast@nyit.edu for more information.
New York Tech Students Design Sustainable and Biodegradable Mask Solution
For the month of April, the United States Department of Health and Human Services hosted the Mask Innovation Challenge. Teams were asked to submit a cost-effective and comfortable mask design that aims to resolve issues leading to less mask wearing. Inconveniences such as skin irritation and contact dermatitis (known as acne), physical discomfort, improper sizing, and foggy glasses were among the list of problems that participants were asked to address. The DHHS has found that these factors tend to reduce mask wearing habits in situations where they are necessary to reduce transmission of infectious diseases. Thus, the Mask Innovation Challenge was created in the hopes that better alternatives or potential solutions might arise from the public.
New York Tech College of Engineering and Computing Sciences students Talise Geer (M.S. Cybersecurity) and Brianna Hobert (B.S. Mechanical Engineering), along with their staff mentor David Fanning, CoECS Laboratory Engineer, recently submitted their project titled Aloha Kai for the Mask Innovation Challenge. The Aloha Kai is intended to be a more eco-friendly mask, implementing bamboo cloth that prevents moisture accumulation and would likely reduce acne-causing bacteria. The team's mask design also aims to address issues with wearer comfort, adding magnets to the end of the mask loops to remove pressure from the ears, along with an aluminum and memory foam strip at the top of the mask to reduce fogging for glasses wearers. Through cost analysis and material sourcing, the team has also demonstrated that their design is cost effective.
By Julian West