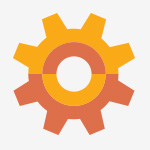 Inside Engineering
This blog features news, events, student work and activities, faculty research, and more from NYIT's College of Engineering and Computing Sciences. Contact Sarah Hessasta at shessast@nyit.edu for more information.
FASTRAC Scholars Take Home 1st and 2nd Prize at the ETIC Cyber Hackathon
On February 5, 2021 the Entrepreneurship and Technology Innovation Center (ETIC) at the College of Engineering and Computing Sciences hosted its 7th ETIC Cyber Hackathon. The ETIC Cyber Hackathon is a programming marathon focused on cybersecurity and includes the "software-development challenge" which allows students to get hands-on experience with software development.
This one-day cybersecurity challenge competition allowed many students to be innovative and understand the impactful projects that can be created in a day.
Two FASTRAC scholars, Arif Rashid (B.S. Computer Science with a concentration in Network Security '24) and Michael Aquino (B.S. Electrical and Computer Engineering '23) won 1st and 2nd prize.
FASTRAC (Financial and Academic Support to Retain and Advance Completion) is a scholarship program funded by the National Science Foundation designed to support students in need of financial assistance enrolled in Computer Science or Computer Engineering programs. This opportunity provides scholars with additional resources to excel in their academic and professional careers. FASTRAC scholars are assigned a faculty mentor to provide mentorship and guidance for their careers. At the end of the program, scholars will have had the opportunity to work in high-impact instructional practices, collaborative learning, and real-life projects. Within the four years, students develop professional proficiency by partaking in engineering design challenges, internships, and hackathons such as the ETIC Cyber Hackathon.
"The light introduction to cryptography made it quite approachable and eased me into diving fully into the challenges that were presented. All in all, it was an amazing experience, and I'm looking forward to the next one!" says Aquino.
With the current remote learning and work environment, events and programs are a different experience for students. By providing a clear understanding of the prompt at hand and providing an experience as valuable as an in-person hackathon, the ETIC succeeded in hosting an impactful remote event for students.
Through this virtual hackathon experience, students like Aquino and Rashid were able to gain cybersecurity knowledge and socialize with other students who have similar interests. The annual hackathon also provides students the opportunity to refine and showcase their skills to potential employers.
The FASTRAC program supports students by allowing them to gain meaningful experiences and the ETIC Cyber Hackathon was one of these experiences that allows students like Aquino and Rashid to learn in a fun and innovative way.
By Sanzida Sultana (B.S. Computer Science '24)