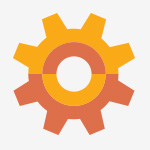 Inside Engineering
This blog features news, events, student work and activities, faculty research, and more from NYIT's College of Engineering and Computing Sciences. Contact Raed Elzenaty at rjelzena@nyit.edu for more information.
Co-op Program Exceeding Expectation
"You and everybody involved in the Co-op program have greatly progressed my professional career, allowing me to gain real-world experience that I would not have had without your help. The experience helped me realize many important things about my career; what I know, what I didn't know and what I need to learn to be successful. I met many great people and got a chance to network with real professionals in my field of interest. You and the Co-op program are really doing great things for students and I wish all NYIT students got to have an opportunity to go through the program. "

Francesco D , 2022 CoECS Co-op Student
The College of Engineering and Computing Sciences Dean Babak D. Beheshti, Ph.D., accepted the award for the co-op track, which is available to students in five of the college's undergraduate programs. "A co-op program is successful only if it builds a robust partnership between academia and industry," he said. "While every sector has many ways of recognizing excellence within its own circles, this award from LISTnet is an acknowledgment by the industry of the efforts we have put in creating a program that both prepares our students for a successful career and benefits the industry by maintaining a pipeline of top engineering and computing sciences talent."
A cooperative education experience provides academic credit for a structured job experience. A co-op track alternates a school term with a work term in a structured manner, involves a partnership between an academic institution and an employer, is paid, and is intended to advance a student's education. Four New York Tech undergraduates majoring in computer science or information technology began co-op tracks this summer and comprised the inaugural cohort.
What's next for this new program? Beheshti noted plans to expand it on two fronts. "First, we will continue to broaden the list of our co-op employer partners. This will provide more co-op opportunities for our students through a rich set of companies in various sectors," he said. "Secondly, we will expand the co-op offering to additional undergraduate programs. We have already seen strong interest and demand from our students for the co-op option, and we will continue to scale up our capabilities to meet this strong interest." Peter Goldsmith manages the co-op program at New York Tech and is a senior specialist in industrial relations for the College of Engineering and Computing Sciences. He also is the founder of LISTnet and currently serves as the chair of the non-profit organization dedicated to building a strong ecosystem for software and technology on Long Island.
The employers are based on Long Island, New York City, and Connecticut; New York Tech's Office of Career Success and Experiential Education is working with Peter Goldsmith, M.B.A., co-op director and adjunct assistant professor, to secure other employers in and around the region.
Below is a partial list of companies that have joined the expanding network of Co-op employers of New York Tech CoECS students: