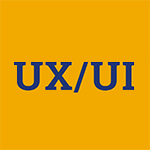 UX/UI Design & Development, M.A. Blog
Find out about our student and faculty highlights, and get the latest updates about the most current news and events in the UX/UI Design & Development Department at New York Tech.
The Fall 2020 Symposium, 12/11
The Fall semester symposium is here!
We would like to take this time to invite you to the fall 2020 symposium presented by the Department of Digital Art and Design which will take place Friday, December 11, 2020 at 6:00 PM. The title of the symposium is Future Facing Art, Design, and Technology, and will include lightning talks and a panel discussion with professionals in the industry that have worked on innovative projects. Topics will include how machine learning is influencing the future of interactive development, stories about the pitfalls of procedural design, discussion on how these professionals got started in their field and more!


Title: Future Facing Art, Design, and Technology
Date: Friday, December 11, 2020
Time: 6:00 PM - 7:00 PM EST

Moderators

Prof. Kevin Park, Assistant Professor and Director of the HIVE
Prof. Ciera Jones, Adjunct Professor and Simulation Engineer
Meet Our Speakers
Sarah Stumbo:
A software engineer with 6 years of industry experience in emerging tech and interactive development. She currently works at Madison Square Garden Ventures.
Maria Mishurenko:
An award-winning virtual and augmented reality developer, artist, and game designer from Brooklyn, New York. She is also a co-founder of the XR design studio Synesthetic Echo.
Benjamin Bacon:
A hybrid medium artist and musician that creates work at the intersection of sound art, computational design networked systems and mechanical life installation and sculpture. He is also an Associate Professor of Media & Arts and Director of Signature Work at Duke Kunshan University.
Nicole Ruggiero:
A 3D visual artist based in NYC. Her work concentrates on technology and the culture surrounding it. Her recent work explores themes like the ambiguous nature of technology, digital emotions and power, environmentalism, and escapism.
Organizer/Graduate assistants:
Rebecca Johnson, UX/UI Design & Development, MA, '21
Shuyi Shao, UX/UI Design & Development, MA, '21
All are welcome to attend and hear from these creative individuals. Thank you in advance for sharing this information and helping promote this event. We look forward to seeing you there!