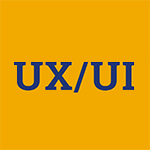 UX/UI Design & Development, M.A. Blog
Find out about our student and faculty highlights, and get the latest updates about the most current news and events in the UX/UI Design & Development Department at New York Tech.
Leah Smith
Borderlands
Borderlands is an immersive installation that uses projection mapping to portray the migrant journey across US borders. The installation is designed to be a multi-sensory experience that engages the audience through visual and audio elements, and is divided into different sections representing different stages of the journey. The installation aims to raise awareness and empathy towards the struggles that migrants face during their journey, and to encourage reflection on the importance of human rights and social justice. The video and audio used in the installation are sourced from news report footage of migrant travelers, and were edited to create a seamless and immersive visual and auditory experience using Touch Designer, Adobe Premiere Pro, and After Effects. The installation was inspired by choreographer Eileene Vicencio, who has been working as a content advisor on the project. In the future, the installation will be integrated into Vicencio's choreography, titled La Bestia, El Coyote y El American Dream, to further enhance the immersive experience for the audience. Overall, Borderlands provides a unique perspective on the issues surrounding immigration into the US, inviting the audience to engage with the topic in a meaningful way.