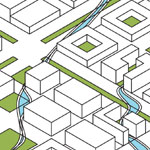 Spotlight on Urban Design
This blog is maintained by the Architecture, Urban, and Regional Design, M.S. program. Contact grad.arch@nyit.edu for more information.
Learn More

Blog | Jun 03, 2013
The work emerging from this and similar studios builds on projects and research by MAURD faculty focused on climate-resilient urban design, and contributes to the critical dialogue in New York City and other cities confronting climate change.
Read More