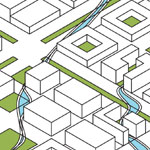 Spotlight on Urban Design
This blog is maintained by the Architecture, Urban, and Regional Design, M.S. program. Contact grad.arch@nyit.edu for more information.
Learn More
Graduate Students Contributing to the Fourth Regional Plan - Regional Plan Association

Pictured: Graduate student presentation to Prof. Schwarting, Rob Lane (RPA), Chris Jones (RPA), Prof. David Graham Shane, Prof. Giovanni Santamaria
The Regional Plan Association (RPA) is America's most distinguished urban research and advocacy organization. RPA upcoming Fourth Regional Plan is crafting a long-range vision for the region's shared prosperity, health and livability, resiliency and good governance and MsAURD students are playing their part. The Fall 2016 Urban Design Studio led by Professor Michael Schwarting and Rob Lane, RPA Senior Fellow for Urban Design has provoked students to identify regional strategies for suburban town on Long Island. Working in collaboration with RPA experts, students are testing out RPA's scenario planning models at the detailed, granular scale of urban design.