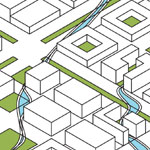 Spotlight on Urban Design
This blog is maintained by the Architecture, Urban, and Regional Design, M.S. program. Contact grad.arch@nyit.edu for more information.
Learn More
Climate-Resilient Urban Design Studio, Fall 2016
This "vertical" graduate-undergraduate design studio at NYIT engages the New York Metropolitan area as a climate laboratory and contributes to the critical dialog cities and regions confronting climate change. The interdisciplinary studio introduces students to the fundamentals of urban design while confronting resiliency challenges in a vulnerable, flood-prone district in Nassau County, Long Island. The studio is further enriched by collaboration with outside experts working with the Governor's Office of Storm Recovery.
The studio is focused on a set of architectural issues of surrounding access, connectivity and community program that are part of your vision for transforming the Mill River Watershed into a more resilient river edge.
The studio identified the following priorities:
Waterfront Revitalization: Promote a mixed use, working waterfront for residential, recreational, commercial and tourism.
Intermodal Transportation Planning: Focus on synergies + adjacencies, within and beyond the project site.
Design for Disaster: Plan for climate change with infrastructure improvements that enhance day to day water quality and ecological diversity while strengthening emergency preparedness in the Mill River Watershed communities and properties prone to crisis.
Community Based Planning: Incorporate community engagement to date and participate as the process unfolds as stakeholders and change makers.
Macro to Micro Scales: Data and mapping driven analyses and concepts for approaching the project.
Greenway: Developing a "Greenway Corridor" linking communities along the Mill River, from Hempstead Lake State Park to Bay Park, through bike paths and trails, road crossings, and access to educational and recreational activities.
Invention: Resiliency structure and program to support the "restoration economy" and present possibilities for green and grey infrastructure.
Urbanity: the creation of vibrant, desirable and livable neighborhoods and town centers, integrated with their larger communities and preserving natural assets.
Adaptive mitigation: Actions that simultaneously reduce greenhouse gas emissions and build resilience to climate risks should be prioritized at all urban scales—metropolitan region, city, district/neighborhood, block, and building.