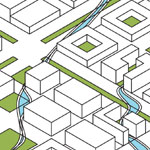 Spotlight on Urban Design
This blog is maintained by the Architecture, Urban, and Regional Design, M.S. program. Contact grad.arch@nyit.edu for more information.
Learn More
Urban Design Studio III Mid-Term Review on November 4th, 2019 at Manhattan Campus
​On November 4th, 2019, the Urban Design Studio III held its mid-term review. This studio constitutes the "capstone" demonstration of ability at the level of a Master's of Architecture Degree.
Graduate students presened their work during mid-term reviews to a panel of young urban planners and architects. The topic for discussion and design was to suggest an urban scheme for the development of a coastal city in Shenshan, which is aspecial cooperation zone in China. The development proposed by students was mainly focused on the eco district principles with high density development keeping a vision for the year 2050
Jury:
Andrew Heid, Principal, NO ARCHITECTURE, SoAD Faculty
Jeannette Sordi, SoAD Faculty
Tawfeeq Ayman, Architectural Designer, Kohn Pederson Fox Associates PC
Wenshuo Liu, SoAD Alumni
Students:
Naqeeb Mohammed
Rosario Foinquinos
Yuval Eynath
Ishan Shah
Smriti Jaiswal
Poornima Elangopandian
Maria Morales
Surabhi Kale