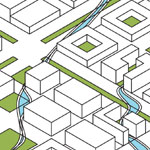 Spotlight on Urban Design
This blog is maintained by the Architecture, Urban, and Regional Design, M.S. program. Contact grad.arch@nyit.edu for more information.
Learn More
Urban Land Institute collaboration with Graduate Urban Design Students
Graduate MSAURD Urban Design Students collaboration with Urban Land Institute on a Sustainable and Resilient Urban Design project.
Our graduate urban design students are currently working in collaboration with leading urban designers, scientists and policymakers to configure a sustainable and resilient district in Brooklyn, NYC. On 26 April, the students worked with the Urban Land Institute Task Force comprising designers and a key community stakeholder group during an Urban Land Institute Session held at SoAD NYIT. Session Participants included:
Donna Walcavage, FASLA, LEED AP - Principal, Stantec
Gary Sorge, FASLA, CSLA, AICP - Vice President, Stantec
Janice Barnes - Director of Resilience, Waggonner & Ball Architecture / Environment
Nancy Choi - Associate, Arup
Michelle de la Uz - Executive Director, Fifth Avenue Committee
Sabine Aronowsky - Fifth Avenue Committee
Felix Ciampa - Executive Director, ULI New York
Sofia Guerrero - Senior Manager, ULI New York
Katharine Burgess - Vice President, Urban Resilience, ULI
Elizabeth Foster - Senior Associate, Urban Resilience, ULI

Workshop Team
Christian Braneon–NASA Goddard Institute for Space Studies (GISS) at Columbia University
Michael Esposito – Elementa Engineering
Jeffrey Raven, FAIA, LEED BD+C – NYIT MSAURD / RAVEN Architecture + Urban Design
Luciana Godinho – Urban Designer / MSAURD Alumni
Surabhi Kale – MSAURD Graduate Student
Yuval Eynath – MSAURD Graduate Student
Ishan Shah – MSAURD Graduate Student
Maria Morales – MSAURD Graduate Student
Naqeeb Mohammed – MSAURD Graduate Student
Poormina – MSAURD Graduate Student
Rosario Foinquinos – MSAURD Graduate Student
Smriti Jaiswal – MSAURD Graduate Student