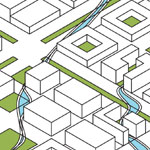 Spotlight on Urban Design
This blog is maintained by the Architecture, Urban, and Regional Design, M.S. program. Contact grad.arch@nyit.edu for more information.
Learn More
Urban Design Studio Mid-Term Review on October 29th, 2019 at Manhattan Campus
On October 29th, 2019, The Urban Design Studio held its mid-term review. The design studio problems focus on both theoretical and real contexts, utilizing required skills of architectural design to address broader issues of the form of cities, suburbs, and their regional inter-relationships.
Students had their work reviewed by a jury of experienced Architects and Urban Designers. A progressive approach was given by the critics to combat problems by inculcating Waterfront Development aspects, which is the current talk of the town.
Jury:
Grahame Shane, Professor at Columbia
Ted Liebman, Partner at Perkins Eastman
Jon Schwarting, SoAD Faculty - NYIT
Jeffrey Raven, SoAD Faculty, NYIT
Graduate Students:
Revathi Selvaraj
Jinal Shah
Chaitri Rathod
Rudrika Rathore
Ayesha Mohammed
Karan Ambardekar