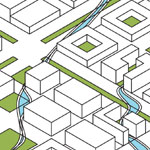 Spotlight on Urban Design
This blog is maintained by the Architecture, Urban, and Regional Design, M.S. program. Contact grad.arch@nyit.edu for more information.
Learn More
Graduate Urban Design Studio 3 - Final Review December 2019 - NYC Campus
The third semester urban design studio engaged the waterfront district in the Shenshan coastal area within the Shenzhen Municipality as a laboratory and introduced ideas, representations, and
techniques of contemporary urban design and discourse through the lens of a resilient and sustainable built environment.
By analyzing and questioning the morphology/organizations/processes inherited from the past, graduate urban design students proposed new visions for the contemporary global eco-city. Through translating differing vernacular technologies; from mountainous and wetland terrains of the countryside into the vertical and horizontal terrain of the city, this urban design studio investigated the potential for scaling and evolving passive design strategies
from vernacular precedents to confront the challenges of 21st century urbanism. The graduate urban design students presented their final projects to a jury of leading NYC-based urban design practitioners
and scholars.
Jury:

Stefan Al,

Senior Associate / Principal - KPF
Ayman Tawfeeq,

Urban Designer - KPF
Adam Frampton,

Principal -

Only If Architecture
Pooya Javaheri

(MSAURD '17)– Urban Designer - Stonehill Taylor
Jeannette Sordi,

Faculty - NYIT
Dong-Sei Kim,

Faculty - NYIT
Tom Verebes,

Associate Dean - NYIT
Faculty:
Jeffrey Raven,

Faculty / Program Director - NYIT
Andrew Heid,

Faculty - NYIT / No Architecture
Graduate Students:
Naqeeb Mohammed
Rosario Foinquinos
Yuval Eynath
Ishan Shah
Smriti Jaiswal
Poornima Elangopandian
Maria Morales
Surabhi Kale