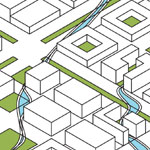 Spotlight on Urban Design
This blog is maintained by the Architecture, Urban, and Regional Design, M.S. program. Contact grad.arch@nyit.edu for more information.
Learn More
Graduate Urban Design Studio 1 - Final Review - NYC Campus
The first semester Urban Design students studied general as well as specific issues of urban design through waterfront projects in the 5 boroughs of New York City. The general issues related to the creation of spatial and functional design of the public realm in relation to a given urban context, whereas the more specific issues were storm surge and water runoff management, post industrial sites and programs, sustainability and resilience and future effects of rising tides and new modes of transportation. There was a positive sharing of information, research and ideas.
Jury:
David Graham Shane, Professor at Columbia GSAPP
Ted Liebman, Partner at Perkins Eastman
Robert Lane - Former Director of Design, Regional Plan Association
Faculty:
Dong-Sei Kim, Assistant Professor, NYIT

Jeffrey Raven, Graduate Director/Associate Professor, NYIT

Graduate Students:
Revathi Selvaraj
Jinal Shah
Chaitri Rathod
Rudrika Rathore
Ayesha Mohammed
Karan Ambardekar