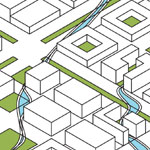 Spotlight on Urban Design
This blog is maintained by the Architecture, Urban, and Regional Design, M.S. program. Contact grad.arch@nyit.edu for more information.
Learn More
Urban Climate Lab: Graduate Urban Design Final Review held on 14 May at NYIT-Manhattan
On 14 May 2018, The Urban Climate Lab course held its final review. The objective of the course it to envision urban design shaping transformative climate action in cities. It concentrates on urban design's central role in mitigating greenhouse gas emissions, urban heat stress, adaptation, and resiliency.
Our graduate students worked in teams to develop quantitative and qualitative design interventions at the district scale. Building massing, urban ventilation, solar impacts, green infrastructure, and anthropogenic factors shape the urban design outcome. The project site was a continuation of the midterm: Sunnyside Yards district in Queens, New York.
A panel of leading experts participated as jurors to review student work for this midterm:
Jury
Daniela Henry, Senior Policy Advisor at Office of the Mayor, NYC

John Lee, Mayor's Office of Long Term Planning and Sustainability, NYC

Timon McPhearson, Associate Professor of Urban Ecology, Urban Systems Lab at The New School

Christian Braneon, NASA Goddard Institute for Space Studies, Columbia University

Apoorv Goyal, Sustainable Design Specialist, HOK

Andrew Heid, Principal, NO ARCHTECTURE

Frances Huppert, FAIA, Architect

Dong-Sei Kim, SoAD Faculty—NYIT

Melissa Kelly, Sustainability Manager—Built Ecology from WSP USA

Graduate Students:
Alaa Marrawi

Avanti Chaphekaar

Juan Pedro Liotta

Kinjal Kholia

Luciana B. Nogueira Godinho

Rishika Shah

Ruchita Mistry

Wenshuo Liu