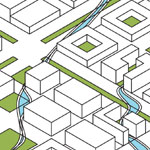 Spotlight on Urban Design
This blog is maintained by the Architecture, Urban, and Regional Design, M.S. program. Contact grad.arch@nyit.edu for more information.
Learn More
Urban Climate Lab: Graduate Urban Design Final Review held at NYIT-Manhattan
The Urban Climate Lab envisions urban design shaping transformative climate action in cities. It focuses on urban design's central role in greenhouse gas emission mitigation and urban heat stress adaptation and resiliency.
A high proportion of global urban areas that will need to minimize Greenhouse gas emissions and adapt to climate change have not yet been built. Developing a region in a denser, more compact form that mixes land use and supports mass transit reduces the carbon footprint. These dense urban districts can be configured to reduce the impact of urban heat and storms due to the changing climate while enhancing quality of life. The Design Studio is producing new knowledge, expanding on the traditional influence and capabilities of urban design.
The student teams are developing quantitative and qualitative design interventions at the district scale. Building massing, urban ventilation, solar impacts, green infrastructure and anthropogenic factors shape their urban design outcomes. The project site this semester is the Gowanus neighborhood in Brooklyn, New York.
The Design Studio is taught by Jeffrey Raven, Assoc. Professor and Director, Graduate Program in Urban + Regional Design, SoAD-NYIT
Rosario Foinquinos
Yuval Eynath
Naqeeb Mohammed
Smriti Jaiswal
Poornima Elangopandian
Ishan Shah
Maria Morales
Surabhi Kale