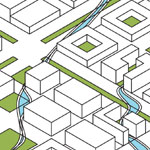 Spotlight on Urban Design
This blog is maintained by the Architecture, Urban, and Regional Design, M.S. program. Contact grad.arch@nyit.edu for more information.
Learn More
NYC Net-Zero District Workshop - December 2019
The NYIT graduate urban design program is a partner to the NYC Net-Zero Carbon Neighborhoods project. The urban design graduate students are working with the American Institute of Architects (AIANY) in collaboration with
a leading US and international research consortium to confront the challenges and opportunities of achieving net-zero carbon districts in New York City. The net-zero district is a case study for a National Science Foundation grant won by NYIT and US-European research collaborators. An expert workshop was held at the NYC Center for Architecture on 9 December focused on the low-carbon urban design district prototype by NYIT graduate students.