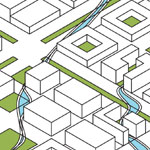 Spotlight on Urban Design
This blog is maintained by the Architecture, Urban, and Regional Design, M.S. program. Contact grad.arch@nyit.edu for more information.
Learn More
Net-Zero District for New York City - Urban Design Climate Lab - Final Review - 18 May 2020
On 18 May, our Graduate Urban Design students presented their Final Urban Design Project to 26 invited guests, comprising global experts, recent alumni and graduate researchers. The presentations were strong; the discussion was animated. The jury congratulated the students for their solid work under very challenging conditions. Their resilience (and that of all NYIT SoAD students) this semester was inspiring.
Two days later, our students presented their work to the National Science Foundation-Belmont Team (comprising experts from US-Germany-Austria). Our graduate urban design program has led the NYC Case Study for this three-year global research consortium on sustainable cities.
Collaborations:
The NYIT Urban Design Climate Lab continues to bring cross-sectoral experts and stakeholders together in a collaborative transnational partnership. The studio is a collaboration with the American Institute of Architects (AIANY) New York chapter, Urban Climate Change Research Network (UCCRN), the INSOURCE BELMONT FORUM - SUGI (869027) and other research teams comprising Working Groups in this phase of applied research.
Jury:
Stefan Knust, AIA, Senior Associate & Director of Sustainability, Ennead Architects
David Briggs, AIA – Partner, Loci Architecture / Executive Dir. Gowanus by Design
Gregory Haley, AIA, AICP, LEED AP, Associate Principal - Grimshaw
Ursula Eicker, Canada Excellence Research Chair in Smart, Sustainable + Resilient Communities + Cities, Concordia University
Joshua Foss, Founder & CEO, Regensia
Jessica Morris – Steering Member, Planning & Urban Design Committee, AIANY
Luciana Godinho – Urban Designer, Loci Architects, MSAURD 2018
Kubi Ackerman, Urban Design Consultant; Former Director of the Future City Lab at the Museum of the City of New York
Eugene Kwak, Assistant Professor at SUNY Farmingdale
Ahmed Mohamed, Assistant Professor at the City University of New York, City College
Alfred Helble, Engineer, AH Consult, Germany
Clare Miflin, Founder, Thinkwoven, Co-Chair, Committee on the Environment, AIA New York Chapter
Ziqian (Cecilia) Dong, PhD – Associate Professor, School of Engineering and Computing Science, NYIT
Beyhan Karahan, AIA – Professor, MSAURD SoAD NYIT, Beyhan Karahan & Assoc.
Dong-Sei Kim - Assistant Professor - SoAD NYIT
Tom Verebes - Associate Dean & Professor - SoAD NYIT
Faculty – Advisors
Jeffrey Raven, FAIA, LEED BD+C, Associate Professor, MSAURD Program Director, SoAD NYIT, Co-Chair, Planning & Urban Design Committee, AIA New York Chapter
Michael Esposito, MSAURD Adjunct Faculty; Senior Environmental Designer and Building Analyst at Elementa - Integral Group
Apoorv Goyal, Associate at Elementa - Integral Group – MSAURD Studio Advisor
Yuval Eynath – Urban Designer, NSF InSource Research Associate, MSAURD 2019
Veronica Sands – UCCRN, Working Group Liaison