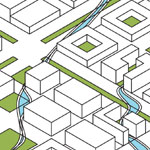 Spotlight on Urban Design
This blog is maintained by the Architecture, Urban, and Regional Design, M.S. program. Contact grad.arch@nyit.edu for more information.
Learn More
Net-Zero Carbon District
International Workshop held at MSAURD NYIT Graduate Urban Design
A Net-Zero Carbon District International Workshop was held at MSAURD NYIT Graduate Urban Design on 25 March 2019. This represents an exciting collaboration between the American Institute of Architects New York Chapter and the international InSource research consortium. The InSource consortium includes NYIT School of Engineering (SoECS) with Ziqian (Cecilia) Dong, PhD. and the School of Architecture and Design (SoAD) with Urban Design Director Jeffrey Raven in collaboration with research institutes in Germany, Austria and City University of New York (CUNY). The 25 March Urban Design Session was focused on an integrated approach to achieving a net zero carbon footprint at a district scale in New York City. "Net-Zero" refers to achieving net zero carbon emissions by balancing a measured amount of carbon (or C02 equivalency) released with an equivalent amount sequestered or offset.
Key InSource research consortium participants included Dr. Ursula Eicker; Scientific Director, Dr. Jürgen Schumacher, and Dr. Volker Coors Research Centre zafh.net - Sustainable Energy Technologies, Hochschule für Technik Stuttgart Germany (in collaboration with Concordia University, Canada). AIANY presented their work on the project, led by Anne Shellum (AIANY COTE co-chair/Buro Happold); Mike Aziz (AIANY P&UD / Cooper Robertson); David Briggs (Gowanus by Design) and others.The Graduate Urban Design Students and SoECS NYIT engineering students presented their Net-Zero Urban Design projects, which is the basis for this research initiative.