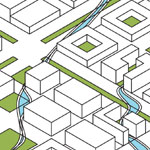 Spotlight on Urban Design
This blog is maintained by the Architecture, Urban, and Regional Design, M.S. program. Contact grad.arch@nyit.edu for more information.
Learn More
China Studio: Graduate Urban Design
The Pearl River Delta is the largest urban area – or megacity - in the world: 60 million residents and 56,000 square kilometers. As part of
current and future expansion of the Shenzhen Municipality within the Pearl River Delta Urban Agglomeration, including Shenzhen-Guangdong-Hong Kong-Macau
Greater Bay Area, the Chinese government has identified the coastal zone of Shenshan to evolve into the "Eastern Gateway" for the Greater Bay Area. Connected to Shenzhen Futian in under an hour by high-speed rail, Shenshan is sited beyond the current periphery of urban sprawl. Comparatively underdeveloped for the region, Shenshan is a key future node along the 4,113-kilometer continental shoreline of Guangdong Province where new development is now required to protect and promote existing natural resources.
For the Global Megacities Studio, the graduate urban design students traveled to China accompanied by urban design studio faculty Jeffrey Raven and Andrew
Heid. During the 10-day trip, they visited the Shenshan project site area, and the cities of Shenzhen, Guangdong and Shanghai. As part of the trip, they
presented their preliminary projects to faculty and students at Shenzhen University School of Architecture. At Tongji University in Shanghai, Jeffrey Raven and Andrew Heid presented their
applied research and professional projects to graduate faculty and students. China-based alumni of the NYIT urban design program joined the group along the trip.
Students:
Naqeeb Mohammed
Rosario Foinquinos
Yuval Eynath
Ishan Shah
Smriti Jaiswal
Poornima Elangopandian
Maria Morales
Surabhi Kale