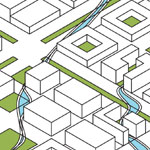 Spotlight on Urban Design
This blog is maintained by the Architecture, Urban, and Regional Design, M.S. program. Contact grad.arch@nyit.edu for more information.
Learn More
Graduate Students Presented at AIA NY Event on October 4th, 2019
Graduate students presented their work at AIA NY Event for "Urban Design Innovation within Air Quality and Urban Heat Island Effect".