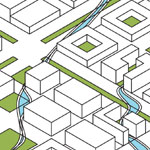 Spotlight on Urban Design
This blog is maintained by the Architecture, Urban, and Regional Design, M.S. program. Contact grad.arch@nyit.edu for more information.
Learn More
Graduate Students Present at the Municipal Art Society of New York
Our graduate students are impacting New York City's future through the cutting-edge applied research from our Graduate Urban Design programs. Our Spring semester Urban Climate Lab provides sustainable and resilient urban design strategies for the redevelopment of Gowanus District in Brooklyn, NY—now under an ambitious rezoning proposal. Student presented their project and research to the Municipal Art Society of NY, one of NYC's foremost advocacy organizations.
Image: Graduate students presenting to Municipal Art Society of New York leadership, including President Elizabeth Goldstein.