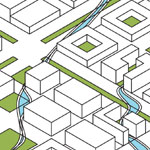 Spotlight on Urban Design
This blog is maintained by the Architecture, Urban, and Regional Design, M.S. program. Contact grad.arch@nyit.edu for more information.
Learn More
Director Jeffrey Raven at Le Monde CITIES
At Le Monde CITIES on 28 June in Paris, our NYIT urban design studio project for Gowanus, Brooklyn was presented through the lens of integrating climate adaptation and climate mitigation (see attached). This was followed by the Innovative Cities Urbanism award that I was honored to present to Parques del Rio, an impressive organization working to transform the waterfront of Medellin, Colombia.
Award to Parques del Rio (Juan Pablo López)