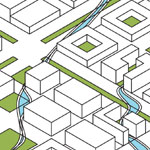 Spotlight on Urban Design
This blog is maintained by the Architecture, Urban, and Regional Design, M.S. program. Contact grad.arch@nyit.edu for more information.
Learn More
Bridge from University to Profession: Internships and Careers
Our Graduate Program's competitive advantage for students is their exposure to high-level experts through internships and jury, leading to career opportunities at leading firms, organizations and public agencies. Recent examples include Grimshaw Architects, NYC Department of City Planning, the Regional Plan Association, to name a few.
Recent graduate Heba ElGawish works for the City of Alexandria, outside Washington DC, in the Planning Department. Heba describes her work: "In my current position as an Urban Planner with the City of Alexandria, I have had the opportunity to work within an interdepartmental team on the development of the Old Town North Small Area Plan. My work has involved researching and compiling data on existing demographics and land use patterns and translating this technical information into illustrative maps and graphics to be presented to city staff, advisory committees and the public. I have also been leading the effort to develop an Urban Design Guidelines manual to ensure that new development follows best practices in architecture and urban design, and contributes to the overall vitality of the Old Town North community. Furthermore, I have been assisting with writing reports and policy recommendations for components of the small area plan including land use, transportation, environmental, housing, and economic development."