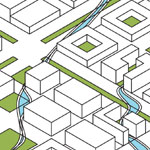 Spotlight on Urban Design
This blog is maintained by the Architecture, Urban, and Regional Design, M.S. program. Contact grad.arch@nyit.edu for more information.
Learn More
Graduate Urban Design Alumni Reception 2020
Our Urban Design graduate alumni celebrated with faculty and colleagues who have helped shape their graduate student experience at NYIT.
"Tonight is about building a community of friends and colleagues", said Program Director Jeffrey Raven in his welcome remarks.
The evening began with Jeffrey Raven giving a special thank you to Professor Beyhan Karahan, who was generous to host our party at her beautiful loft in SoHo. Our Dean, Maria Perbellini described exciting new developments in the School of Architecture & Design, followed by Prof. Raven's news on the Graduate Urban Design Program.
The recent graduates of the 2018-2019 cohort were then congratulated by the assembled group including current students, and the evening continued with alumni sharing their news, recent student urban design projects, and conversations over good food.
SoAD Team:
Maria Perbellini, Dean

Jeffrey Raven, M.S.AURD

Program Director
Beyhan Karahan, Professor
Dr. Tom Verebes, Associate Dean for Academic Affairs
Anthony Caradonna, Associate Dean for Academic Operations
Giovanni Santamaria, Chair, Associate Professor
Andrew Heid, Adjunct Professor
Shanmuga Jayakumar, Adjunct Professor

E

u

gene Kwak, Former Adjunct Professor

Kesia Persaud

,

Administrative Specialist
Alumni:
Yuval Eynath, 2018-2019
Naqeeb Mohammed, 2018-2019
Rosario Foinquinos Iglesias, 2018-2019
Smriti Jaiswal, 2018-2019
Ankita Gupta, 2012-2013
Loris Autovino, 2014-2015
Nazia Hasan, 2014-2015
Pooya Javaheri, 2015-2016
Sherif Abdellatif, 2015-2016
Ana Llopis Esbri, 2015-2016
Juan Pedro Liotta, 2017-2018
Wenshuo Liu, 2017-2018
Luciana Nogueira, 2017-2018