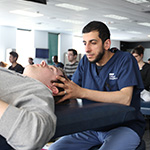 Osteopathic Manipulative Medicine Digest
Welcome to the Osteopathic Manipulative Medicine (or OMM) Digest. Explore our research projects, clinical and medical education programs and specialties, and our extracurricular organizations and activities.
Feature | Jul 23, 2018
In a Facebook Live session, Assistant Professor Joanne Donoghue, Ph.D., and NYITCOM student Mina Divan, talk about the right and wrong ways for runners to fuel their bodies.
Read More at the Box