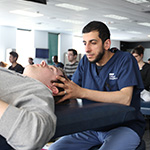 Osteopathic Manipulative Medicine Digest
Welcome to the Osteopathic Manipulative Medicine (or OMM) Digest. Explore our research projects, clinical and medical education programs and specialties, and our extracurricular organizations and activities.
Feature | Aug 22, 2018
Nephro360, a new teaching tool developed by Assistant Professor Alexsandr Vasilyev and NYITCOM students Ivan Bandovic and Dylan Carmichael, uses virtual reality and gaming technologies to help students learn about the kidney.