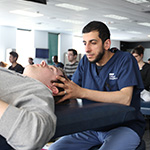 Osteopathic Manipulative Medicine Digest
Welcome to the Osteopathic Manipulative Medicine (or OMM) Digest. Explore our research projects, clinical and medical education programs and specialties, and our extracurricular organizations and activities.
Feature | Sep 04, 2020
NYITCOM research explores whether osteopathic techniques can improve concussion symptoms and help clinicians to better understand the impact of these injuries.
Read More at the Box