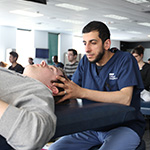 Osteopathic Manipulative Medicine Digest
Welcome to the Osteopathic Manipulative Medicine (or OMM) Digest. Explore our research projects, clinical and medical education programs and specialties, and our extracurricular organizations and activities.
Event | Aug 10, 2019
New York Institute of Technology College of Osteopathic Medicine is proud to celebrate the opening of the NYIT Center for Osteopathic Medicine on the Long Island campus.
Read More at NYIT Events