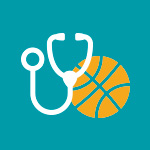 Sports Medicine Digest
The Sports Medicine Digest provides the latest updates from the NYIT Center for Sports Medicine as well as recommendations and advice to improve your performance and maintain your health in athletic pursuits.
Learn More
Pioneering Study on Head Injury and Lacrosse
To make the sport safer for players everywhere, NYIT Center for Sports Medicine partnered with the NYIT Men's Lacrosse Team on a pioneering study to understand the effect hits have on players. Ten student-athletes wore mouth guards with sensors to register all of their hits throughout the spring 2018 season. The findings should help helmet makers, coaches, players, and others understand the types and levels of hits lacrosse players receive on a repetitive basis short of causing concussions as well as the cumulative impact those hits have throughout the season on their brain function.
Dr. Matthew Heller, Assistant Professor for Family Medicine, who oversaw the study that was published in Newsday, indicated, " head injury studies are beginning to show that repetitive subconcussive hits may underpin long term consequences like CTE." "The key "finding" from our research is that both verbal and visual memory- which are two different aspects of our cognitive process- declined from base line at both mid season and post season, says Dr. Hallie Zwibel, Director of Sports Medicine. Players in the study were found to have upwards of 1500 impacts some of which measured 80 Gs, which is equivalent to a 40 miles per hour car crash.
The study was also featured on News 12 Long Island's Hard Knocks segment with NYIT alumna Carol Silva introducing the segment, as well as on ABC7 Eyewitness News, CBS New York, and Fox 5 New York.