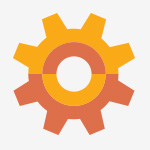 Inside Engineering
This blog features news, events, student work and activities, faculty research, and more from NYIT's School of Engineering and Computing Sciences. Contact mrosman@nyit.edu for more information.
Feature | Sep 19, 2013
Experts from the security industry, government, and academia who gathered at New York Institute of Technology's (NYIT's) annual cyber security conference yesterday shared insights and perspectives across the cyber security spectrum, but two common themes emerged: the pressing need for a skilled and innovative cyber security work force, and the imperative to focus on incorporating security in the earliest phases of design.
Read More at the Box