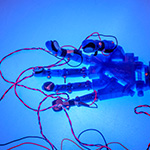 ETIC Updates
Find the latest news, events, and information from the Entrepreneurial and Technology Innovation Center (ETIC). Contact mnizich@nyit.edu for more information.
See all posts on ETIC Updates
Results for "News" on ETIC Updates
Feature | May 14, 2021
Three New York Tech students and one alumnus are working to build innovative companies to disrupt traditional business models in the healthcare and jewelry industries.
Read More at the Box