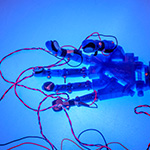 ETIC Updates
Find the latest news, events, and information from the Entrepreneurial and Technology Innovation Center (ETIC). Contact mnizich@nyit.edu for more information.
See all posts on ETIC Updates
Results for "Events/Conferences" on ETIC Updates
Feature | Mar 18, 2021
New York Tech's ETIC Remote Engagement Sessions in Technology (iNTEREST) program launches a virtual lecture series to introduce students to the latest proprietary technologies.
Read More at the Box
Feature | Sep 14, 2020
Members of New York Tech's leadership team shared highlights of the past year and plans for 2020-2021 at the annual convocation for faculty and staff on September 3, 2020.
Read More at the Box