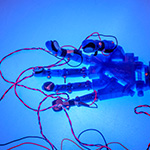 ETIC Updates
Find the latest news, events, and information from the Entrepreneurial and Technology Innovation Center (ETIC). Contact mnizich@nyit.edu for more information.
Feature | Nov 20, 2017
On November 15, nearly 100 guests and members of the NYIT community joined Dean Nada Anid, Ph.D., NYIT President Hank Foley in a ceremonial ribbon cutting for the new cybersecurity lab, funded by a $400,000 ESD grant.
Read More at the Box