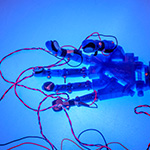 ETIC Updates
Find the latest news, events, and information from the Entrepreneurial and Technology Innovation Center (ETIC). Contact mnizich@nyit.edu for more information.
Feature | Dec 06, 2018
ETIC's Technology Internship Prep Program (TIPP) gives students the opportunity to present technology profiles directly to company representatives—and get internships and jobs as a result.
Read More at the Box