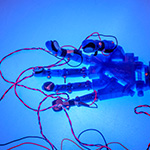 ETIC Updates
Find the latest news, events, and information from the Entrepreneurial and Technology Innovation Center (ETIC). Contact mnizich@nyit.edu for more information.
Feature | Aug 01, 2018
Crater—an on-demand transportation service app—is the brainchild of two NYIT School of Engineering and Computing Sciences students that will allow people to call a driver with a pick-up truck to bring their goods home.
Read More at the Box