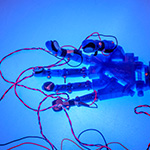 ETIC Updates
Find the latest news, events, and information from the Entrepreneurial and Technology Innovation Center (ETIC). Contact mnizich@nyit.edu for more information.
Feature | Jun 05, 2023
Continuing its commitment to undergraduate research and to building a pipeline for students to pursue STEM fields, New York Tech has completed the sixth year of its Mini-Research Grant Awards program.
Read More at NEW YORK TECH NEWS