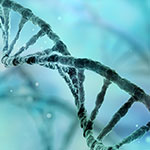 Biological & Chemical Sciences News
Find out about the latest research and news from the Department of Biological & Chemical Sciences at NYIT.
NYIT students take first place for their research on bacteriophages
NYIT students from the Life Sciences department presented their research at a science symposium. Natalia Reynisdottir, Brianna Weiss, and Lovejit Kaur who conduct research with Assistant Professor Bryan Gibb, Ph.D. on bacteriophages. Bacteriophages are viruses that infect bacteria and recently have caught attention for their potential to be used an alternative therapy for treating antibiotic resistant bacterial infections.
The annual symposium brings together faculty of students from NYC area schools that participate Science Education Alliance Phage Hunters Program. SEA-PHAGES is a prestigious program that NYIT was recently invited to join and will be running our first section of the course in Fall 2019.
Natalia won an award for best talk at the symposium for describing her work finding novel bacteriophages that infect Citrobacter freundii, an enteric bacteria that can cause a variety of opportunistic infections. Citrobacter, like many other bacteria is rapidly acquiring resistance to antibiotics, so novel treatments are necessary. Natalia isolated and characterized bacteriophages from local sewage that may have the potential to be used therapeutically. In fact, these phages were sent to another lab in an effort to save a sea turtle suffering from an antibiotic resistant Citrobacter infection in its shell.
Brianna and Lovejit won an award for best poster at the symposium for their work describing bacteriophages isolated from kitchen sponges. Kitchen sponges have the potential to harbor a huge variety of microbes, including pathogens. Brianna, Lovejit and another former student, Linesha Davis were successful in isolating bacteriophages from dirty kitchen sponges. The ongoing research seeks to understand the nature of the bacteriophages and the host bacteria, which was also isolated from the sponges. This work will help us understand the microbial environment of the kitchen sponges.
If you would like to learn more about these projects, Natalia, Brianna and Lovejit will be presenting their work at SOURCE on April 26th.