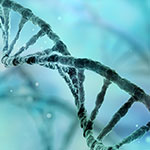 Biological & Chemical Sciences News
Find out about the latest research and news from the Department of Biological & Chemical Sciences at NYIT.
Two BCS students selected to represent NYIT at New York Business Place Competition
Peter Stanciu and Mr. Adnan Alladin, of Biological and Chemical Sciences were chosen by NYIT to present their entrepreneurial idea at the upcoming regional 2021 New York Business Plan Competition, and I am helping them develop their novel concept into prototypes. Hopefully, they will advance to the New York Business Plan Competition Finals, and eventually to the marketplace. Their business plan is based on "A Proof-of-Concept Pilot Study of the Use of Beta-Blocker Eye Drops in Preventing and Treating Migraine Attacks". Our students have named the company "Vitasanus Biosciences." The goal of their company is to bring an innovative use of market drugs for treating migraine through its pharmaceutical segment and marketing health and wellness products through its retail segment.