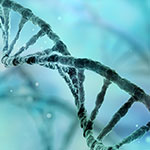 Biological & Chemical Sciences News
Find out about the latest research and news from the Department of Biological & Chemical Sciences at NYIT.
Research Activities: Jacqueline Keighron, Ph.D., Assistant Professor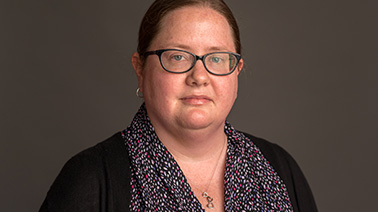 Ultra-Fast Real-Time Simultaneous Recording of Multiple Neurotransmitters in the Brain
Neuronal communication relies on the detection of chemical signals released from one neuron to another in the brain. Real-time detection of some of these chemical signals such as dopamine, serotonin and norepinephrine has become an important tool in multiple fields of study such as chemical signaling, behavior (motivation, reward, fear), and neurological disorders (depression, substance abuse, Parkinson's, Alzheimer's). However, the technology for monitoring some of the important neurochemicals involved in our major brain functions such as glutamate and acetylcholine lack detection methods for studies in vivo by their slow temporal resolution and therefore new analytical tools with rapid real-time detection of these key neurotransmitters are sorely needed. By incorporating nanomaterials with electrochemical biosensors my research creates and optimizes faster and more robust sensors for use in neurochemical studies. My research focuses on the current state of the art in detection of non-electroactive neurotransmitters such as glutamate and to further develop this technology to apply for in vivo studies in rodent models. In addition, the aim is to extend this technology for the application of dual detection of electrochemical and non-electrochemical neurotransmitters at the same biosensor surface, allowing for the study of the interplay between neurochemical signals in spatially defined individual regions of the rodent brain. Therefore, biosensors technology that can improve recording speed and spatial resolve multiple neurochemical signaling are important for gaining a better understanding of the roles of these neurotransmitters in behavioral and pharmacological studies of substance use disorders. The ultimate goal of this work is to create and use tools to better understand the changes in the neurochemistry of the brain when exposed to mind altering substances and explore the difference between their medicinal use and capacity to be a substance abuse. On going work examines the use of nanomaterials in biosensor technology, the neurochemistry of substance abuse, and potential treatments for substance abuse disorders.
Selected Publications
Newman, A. H., Cao, J., Keighron, J. D., Jordan, C. J., Bi, G.-H., Liang, Y., Abramyan, A., Avelar, A. J., Tschumi, C. W., Beckstead, M. J., Shi, L. Tanda, G., Xi, Z.-X. (2019) Translaiing the atypical dopamine uptake inhibitor hypothesis toward potential therapeutics for treatment of psychostimulant use disorders. Neuropsychopharmacology, 44(8):1435.
Keighron J.D., Quarterman, J., DeMarco, E., Coggiano, M.A., Slack, R., Cao, J., Newman, A. H., Tanda, G. (2019) Effects of R-Modafinil and Modafinil-Analogs on dopamine dynamics assessed by voltammetry and microdialysis in the mouse nucleus accumbens shell. 10:2012-2021.
Wang, Y., Mishra, D., Bergman, J., Keighron, J.D., Skibicka, K., Cans, A.-S. (2019) Glutamate biosensor recordings in brain slices reveal single exocytosis transients. ACS Chemical Neuroscience, 10:1744-1752.
Keighron, J.D., Giancola, J.B., Shaffer, R., DeMarco, E., Coggiano, M.A., Slack, R.D., Newman, A. H., Tanda, G. (2018) Distinct effects of (R)-Modafinil and its (R)- and (S)-fluoro-analogs on mesolimbic extracellular dopamine assessed by voltammetry and microdialysis. doi:10.1111/ejn.14256
Keighron, J.D., Wigström, J., Kurczy, M.E., Bergman, J., Wang, Y., Cans, A.-S. (2015) Amperometric detection of single vesicle acetylcholine release events from an artificial cell. ACS Chemical Neuroscience, 6:181-186.