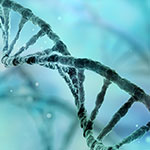 Biological & Chemical Sciences News
Find out about the latest research and news from the Department of Biological & Chemical Sciences at NYIT.
Group of NYIT Life Science Students Take first Place at MACUB conference
Each year the Metropolitan Asssociation of College and University Biologists (MACUB) hosts a conference for local college students to provide a venue to present their research. This year, two groups of NYIT students were among the almost one-hundred fifty posters by students from 2-year community colleges, 4-year senior colleges, and graduate programs.
Bruna Fittipaldi and Helly Amin, mentored by adjunct professor Dr. Paramita Basu-Mukherjee presented their research studying the sensitivity of Penicillin by Group B Streptococci.
Linesha Davis, Lovejit Kaur and Brianna Weiss, mentored by Dr. Bryan Gibb presented their work on the isolation and characterization of novel bacteriophages from kitchen sponges. This poster took first place in the Senior College category of Microbiology and Immunology.
This two keynote addresses were given by Greg Dunn a Ph.D. neuroscientist turned artist and Allison Dell an Assistant professor of Biology from St. Francis College who is also a Ph.D. trained neuroscientist and artist. Dunn is renowned for his micro etching techniques used to visualize neuronal circuits, which is best epitomized by the the piece entitled "Self Reflected", on permanent display at the Franklin Institute in Philadelphia.