Architecture Computational Technologies
Explore design research at the frontiers of architecture through experimentation in computational design, robotic systems applied to fabrication and interactivity, and materiality. For more information please contact ms.act@nyit.edu
ARCHITECTURE And CAPITALISM Lecture YANIS VAROUFAKIS, PEGGY DEAMER,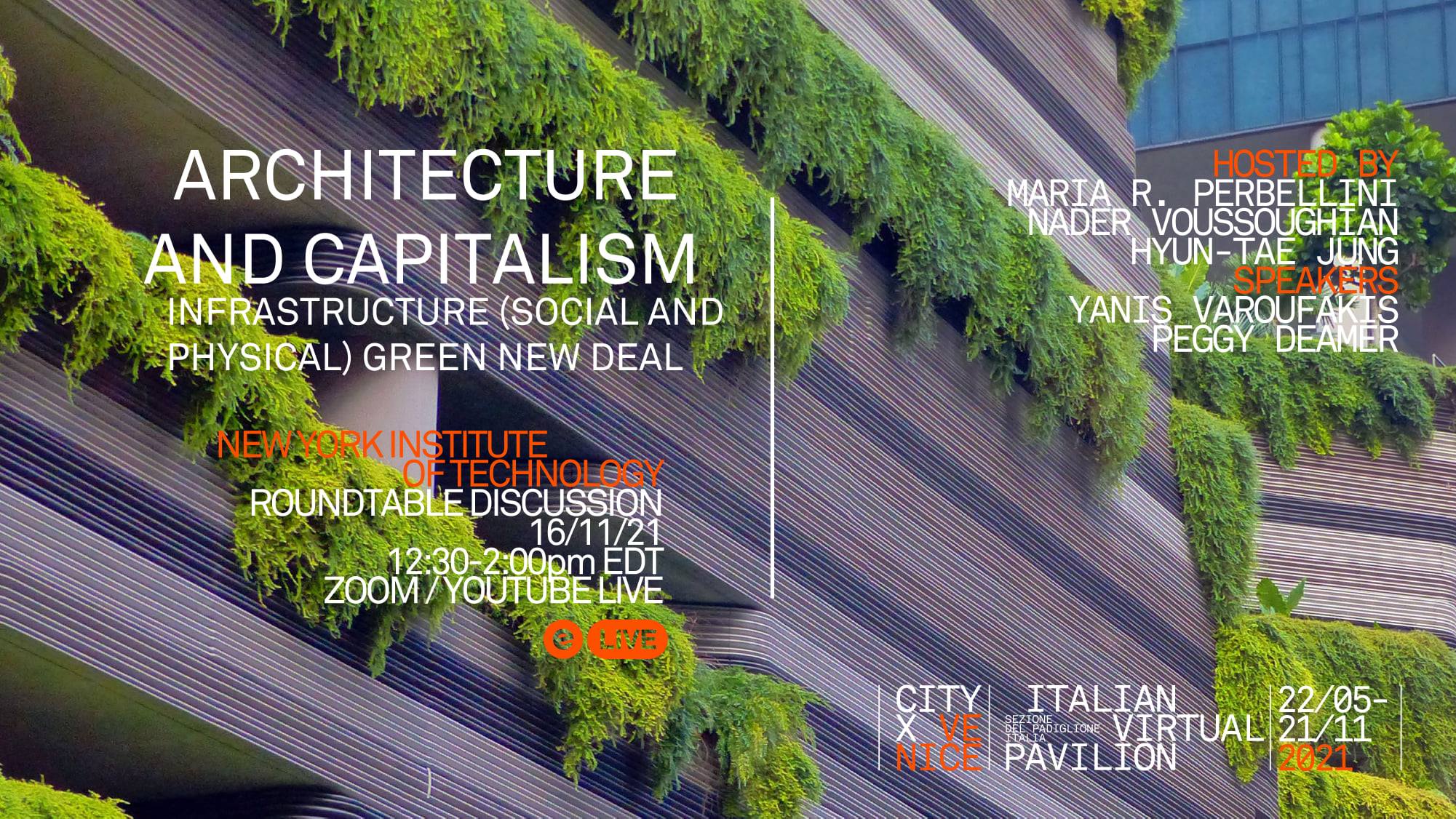 ​ARCHITECTURE AND CAPITALISM:
INFRASTRUCTURE(SOCAIAL AND PHYSICAL) GREEN NEW DEAL
NOVEMBER 16, 2021


WELCOME:
Maria R. Perbellini, Dean, School of Architecture and Design, New York Institute of Technology
INTROFUCTIONS AND MODERATION:
Nader Voussoughian, Associate Professor, School of Architecture and Design, New York Institute of Technology

Hyun-Tae Jung, Associate Professor, School of Architecture and Design, New York Institute of Technology
PANELISTS:
Yanis Varoufakis, Greek-Australian economist and politician.
Yanis Varoufakis served as Minister of Finance of Greece in 2015.Varoufakis taught economics and econometrics at the University of Essex and the University of East Anglia. In 1988, he spent a year as a Fellow at the University of Cambridge. From 1989-2000 he taught as senior lecturer in economics at the Department of Economics of the University of Sydney and in 2000 he accepted the offer to become Professor of Economic Theory at the University of Athens.From 2004-06, Varoufakis served as economic advisor to George Papandreou, then Leader of the Opposition during 2004-06. In 2012 Varoufakis became Economist-in-Residence at Valve Corporation. He researched the virtual economy on the Steam digital delivery platform, specifically looking at exchange rates and trade deficits. From 2013-14 he taught at the Lyndon B. Johnson School of Public Affairs at the University of Texas at Austin as a visiting professor. On 25 January 2015, Yanis Varoufakis was appointed finance minister by Prime Minister Alexis Tsipras after the election victory of Syriza in the parliamentary election. Varoufakis resigned as Finance Minister on 6 July 2015. Yanis Varoufakis studied economics in the UK, first at the University of Essex and secondly mathematical statistics at the University of Birmingham. He has a PhD in economics. Varoufakis has written several books on game theory, microeconomics and macroeconomics. The world-renowned economist and bestselling author Yanis Varoufakis presents his thoughts about capitalism and infrastructure.
Peggy Deamer, Emeritus Professor of Architecture, Yale University
Peggy Deamer is Professor Emerita of Yale University's School of Architecture and principal in the firm of Deamer, Studio. She is the founding member of the Architecture Lobby, a group advocating for the value of architectural design and labor. She is the editor of Architecture and Capitalism: 1845 to the Present and The Architect as Worker: Immaterial Labor, the Creative Class, and the Politics of Design and the author of Architecture and Labor. Articles by her have appeared in Log, Avery Review, e-Flux, and Harvard Design Magazine amongst other journals. Her theory work explores the relationship between subjectivity, design, and labor in the current economy. Her design work has appeared in HOME, Home and Garden, Progressive Architecture, and the New York Times amongst other journals. She received the Architectural Record 2018 Women in Architecture Activist Award and the 2021 John Q. Hejduk Award.


LECTURE:
This is a discussion of architecture's role in capitalism and the manner in which it is circumscribed by capitalism and furthers capitalism's agenda. In discussion with Nader Vossoughian, Hyun-Tae Jung and Yanis Varoufakis, we will examine the role that building can play in remedying the economic, biological, and social crises facing so many nations today. We will talk about its importance to the future of the public sphere, not just from a political point of view but also from an ecological and humanitarian standpoint. We will debate the ongoing challenges that monopoly capitalism poses to our life on this planet. We will consider some of the theories of infrastructure current in artistic and policy-related circles. We will assess the merits of the Green New Deal, which pairs labor programs together with the climate crisis. And we will examine activist movements taking root in various parts of the world.